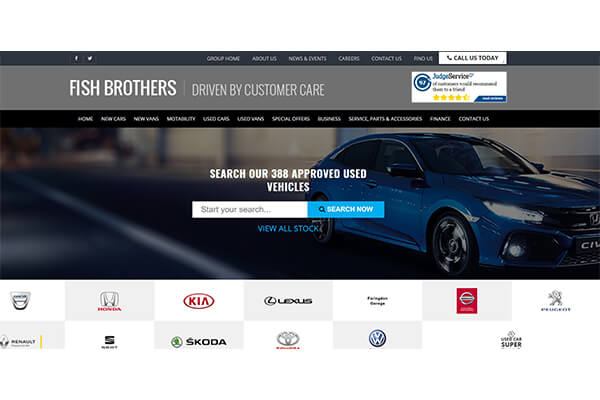 Project Status: June 18th 2018(Completed)
Project Intro: Fish Brothers is car dealer group in Swindon. They're into selling new and used cars across Swindon and Wiltshire. Fish Brothers group offer a wide selection of used cars in Swindon, Wilshire, Farringdon and the surrounding areas at competitive prices.
They've over 70 years of experience in the motoring industry and is recognized as one of Swindon's renowned car dealer groups. Fish Brothers have a wealth of experience in providing unbeatable service at fantastic prices whilst establishing a trustworthy, reliable and friendly service to all its customers. We want you to get the most out of your vehicle ownership, so Fish Brothers will be here to assist you past the sales process with our expert aftersales team on hand to ensure you and your car get all the care you require.
Some of the services that we provide are as follows:
Search Engine Optimization: For specific car brands we car brands we couldn't get the inside pages ranked well. Hence we added hyperlinks below each brand page. For instance for the car model "Kia", we had added some popular search terms. We targeted Swindon, neighboring areas including bath & Wiltshire.
Google AdWords: For a new car released Seat Arona 1.6 we ran a promotional AdWords campaign.