Things You Must Do to Optimise Your Google Ads Campaigns in 2024
As 2024 draws near, it's time to prioritize optimizing your campaigns for the coming year. Based on our past experience, we'll share a few tips to help you improve your Google Ads campaigns and drive better results.
Check Target CPA after 15 Days
When you are using the Target CPA bidding strategy, Adjusting your Target CPA value every 15 days will help you acquire conversions at a lower cost per acquisition. Let's take an example to better grasp the concept.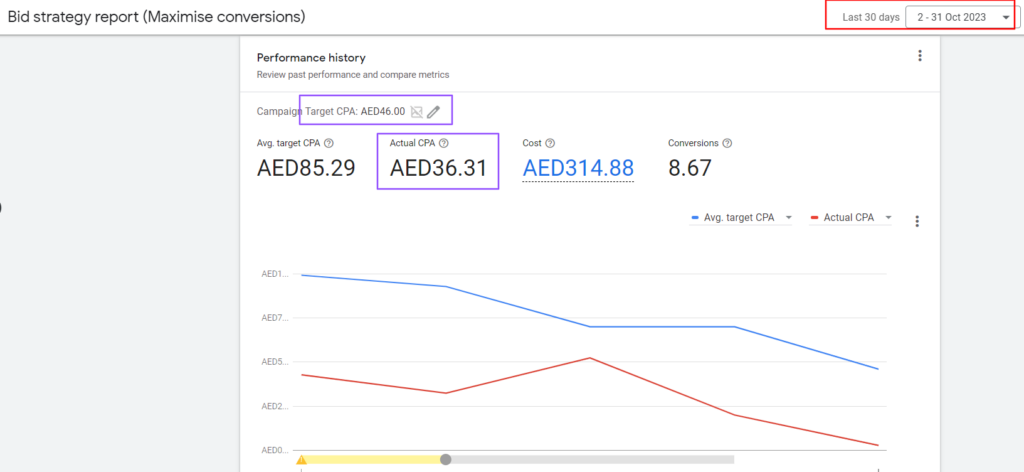 Always use the most recent 30 days of data when adjusting the target CPA. Using data from the last 30 days, we can see in the above screenshot that our Target CPA (AED46) is significantly higher than the actual CPA (AED36.31).
To get more conversions at a lower cost, we need to reduce our target cost per acquisition (CPA) to AED37. We will then wait 15 days to see if the actual CPA has decreased or increased.
If the actual CPA has increased, we will not make any changes. If the actual CPA has decreased, we will further reduce the target CPA to the closest value.
2. Tweak Location preferences based on your targeting
While setting up a campaign, We usually just enter the target location and move on to the rest of the campaign setup, but there's one more thing you can do to reach your ideal customers while keeping your advertising budget in check.

Choose the first option if you want to reach people who aren't already in the target place but who may decide to visit there.
The second option is preferable if you just care about reaching individuals who actually live in the target location, as it prevents your adverts from being displayed to people who aren't there but might be interested in it.
Based on your conversion goals, you can select either of the options.
3. Always keep an eye on auto-apply recommendations
With Google Ads' auto-apply suggestions tool, you can have recommendations applied to your account automatically. In addition to saving you time, this can boost the effectiveness of your campaign. When enabled, Google Ads will automatically implement any recommendations it thinks are likely to boost the performance of your campaign.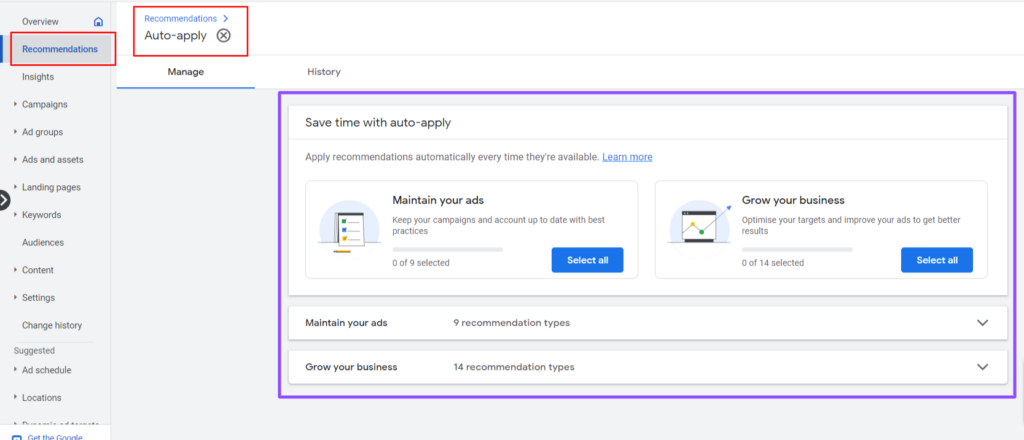 When you opt into any auto-apply recommendations, it's not necessary that every recommendation in future will improve your performance. So, it's necessary for us to check each and every recommendation once Google executes it.
4. Do not blindly follow Google representative's recommendations
Once you qualify for a dedicated Google Ads account manager, a representative will contact you to schedule a call to discuss ways to improve your current campaigns.
During the call, the representative will recommend changes to your account. However, you should take your time to consider each recommendation carefully and decide whether it is aligned with your business goals. You should not blindly follow the representative's advice.
In other words, a Google Ads account manager can be a valuable resource, but it is important to be critical of their recommendations and make your own decisions about how to manage your campaigns.
5. AI tools for writing ad copies
Writing creative headlines and descriptions for multiple ads for the same product or service can be challenging. AI tools such as ChatGPT, Bard, Jasper AI, and others can generate creative ad copy for you.
By combining sentences generated by these tools, you can create unique and effective ad copy that will capture your target audience's attention.