Why your business needs SEO services
Search Engine Optimisation is a technique used for improving the visibility of your website on search engines like Google, Bing, Yahoo, etc., making it easier for your target audience to find you.
Why SEO is Critical today?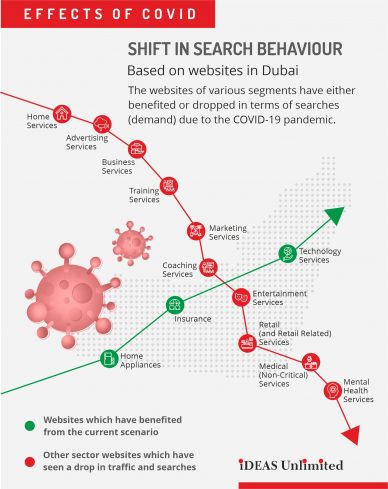 Since COVID-19 has set foot across the globe, many businesses and industries of various sectors have seen a change in the response & behaviour of users. Many Market Research companies have performed in-depth studies to understand this behavioural trend to stabilise the uncertain market conditions, where many brands have seen a drop in sales. They have performed comprehensive research to study and analyse the effect of COVID-19 on search behaviour, specifically within various Dubai-based websites and businesses. (Please note that the data in the infographic might differ for various businesses depending upon other factors). A huge majority of marketers say SEO will be considered the most important marketing tactic during the pandemic and perhaps the most economical and effective way to hit leads and sales numbers. The uncertainty during these times, demands that you understand the truth about what your customers need and emphasise on the value your brand can deliver to them. Creating useful website information, and investing in content marketing, SEO and social media, is very critical, especially in more engaging formats like videos, chats and livestreaming.
So, where do you stand today? Audit your website and find out now!
Starting @AED 3000 per month
We offer only the best tailor-made SEO package that suits your budget.
Starting @AED 3000 per month, we offer bespoke packages based on your digital marketing objectives and business goals.
✔ Flexible monthly packages to suit your budget
✔ Our monthly reports contain actionable insights
✔ Guaranteed ROI of 30% in 4 months*
✔ We are certified Google Partners
✔ We are seasoned professionals with 15+ years of experience
✔ We provide goal-oriented consultation
Request a website audit report - FREE
Is your website ready to meet the challenges of the post-pandemic era?