FAQ's make a user's research objective and user interface much better. FAQ's help a particular business responds to its clients in a way which is easier for the clients by directing them to the related pages.
What are FAQ Rich Snippets?
An FAQ (Frequently Asked Question) rich snippet is a kind of structured markup which helps to present questions and answers in a rich snippet. This is done in the backend by the website admin.
A Snippet without FAQ markup
A Snippet with FAQ markup

Advantages of using FAQ Rich Snippets
Implementing an FAQ rich snippet to the backend lets the search result be similar to an Accordion of the question menu list. A list of questions which, when clicked reveals the answer to it.
A Study held by Elsight defines using an FAQ, and Q&A snippets can increase CTR by up to 30%, which is a significant increase for any business. Embedding an FAQ markup on your web page is an easy and quick task. To begin with, we need to decide on which kind of page we want to add the FAQ rich snippet. We have the flexibility to provide the users with any additional information about the webpage in the form of question and answers, curated by yourself.
How to go about creating an FAQ rich snippet?
There are a lot of ways to implement an FAQ rich snippet. Let's go through a method in which we can successfully add the FAQ rich snippet curated by us without any professional programming skills.
You do not need to invest a lot of time coding and studying about schema markup. Use the already-made code only to replace the title and the questions which would vary concerning the different web pages we've decided to add the FAQ rich snippet.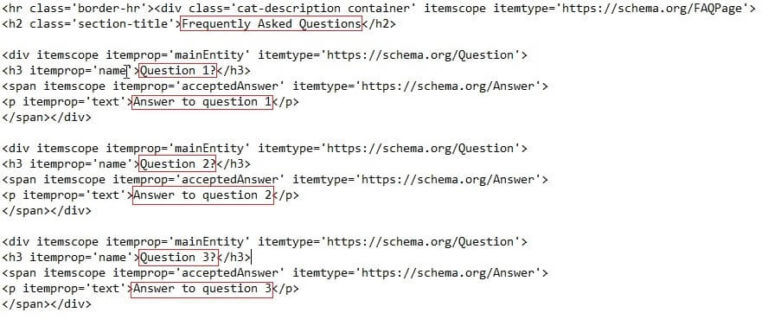 Open HTML code of the webpage you wish to add the FAQ rich snippet to and add the above schema markup in it. Note that the text marked in red boxes would be the text for you to replace with the additional information you wish to bring forward to your users.
Addling the ready-made code would not require a programming professional, but some coding skills will be required.
How do we verify if our FAQ snippets are working properly?
One of the methods to verify FAQ Snippets is with the help of Rich Results Test. Rich Result test is an instrument to check the performance of the schema markup.
Enter the URL with FAQ Snippets and click on Test URL.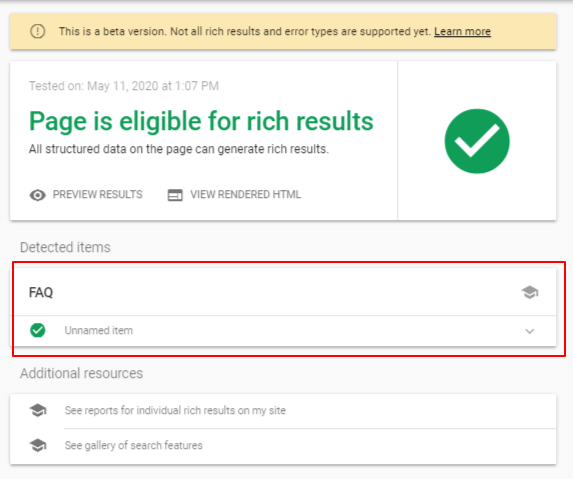 The test will show us which rich result categories are found on the page, along with errors and suggestions.
Conclusion
Addling an FAQ rich snippets is now an essential part of your SEO optimization process. It makes your search result stand out from the dull search results which are not yet using the same. Improve your webpage CTR by embedding this instrument and upgrade your overall website SEO.